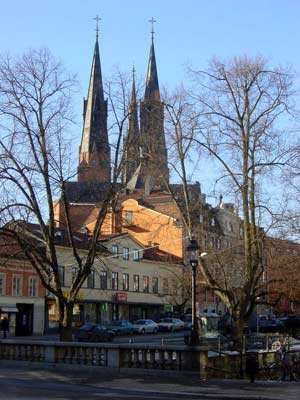 Uppsala (older spelling Upsala) is the seat of Uppsala County (Uppsala län) and the fourth largest city of Sweden. Located about 70 km north of the capital Stockholm, it is also the seat of the Uppsala municipality (Uppsala kommun). Since 1164, Uppsala has been the ecclesiastical center of Sweden, being the seat of the Sweden's head archbishop. Founded in 1477, the Uppsala University is the oldest center of higher education in Scandinavia and much of Northern Europe.

Situated on the fertile Uppsala flatlands of muddy soil, the city is featured by the small Fyris River (Fyrisån) flowing through the landscape surrounded by lush vegetation. Parallel to the river runs the glacial ridge of Uppsalaåsen, at an elevation of circa 30 metres the site of Uppsala's castle from which large parts of the town can be seen. The central park Stadsskogen stretches from the south far into town, with opportunities for recreation for many residential areas within walking distance.

Only some 70 kilometers or 40 minutes by train from the capital, many Uppsala residents work in Stockholm. The train to Stockholm-Arlanda Airport takes only 17 minutes, rendering the city easily accessible by air.

The commercial centre of Uppsala can best be described as quite compact: While some beautiful buildings remain in the periphery of the central core, especially on the less intensively built western river bank around the cathedral, castle and university, retail commercial activity is geographically focused to a minor number of blocks around the pedestrianized streets and main square, an area which was subject to large-scale post-World War II metamorphosis during the economically booming years in the 1960s in particular. During recent decades, a significant part of the retail commercial activity has been relocated to shopping malls and stores situated in the outskirts of the city. Alongside with this, the built up areas have expanded in a quite extensive way, and a certain suburbanization has taken place.

Source:

Uppsala places

Other areas
Gothenburg
Helsingborg
Malmö
Solna
Stockholm
Uppsala


Uppsala Tourism
The official tourist portal of Uppland. Our ambition is for the website to fulfill the requirements of applicability, efficiency, and satisfaction. Uppsala, the coastal region Roslagen, Lake Mälaren, the Walloon ironworks villages, Älvkarleby.

Visit the coastal region of the Baltic Sea, the waterfalls in Älvkarleby, or the rock carvings in the Lake Mälaren district. Or experience the cultural history of the many Walloon ironworks villages in Uppland.

We open the lid of the treasure chest and what do we see: hundreds of cultural gems in Uppland! This is no doubt because here is where it all started. Sweden's history started in Uppland, from the Iron Age up until the prosperous Viking period known as the Vendel period. Our ancestors must have been keen on not being forgotten, since you can hardly move an inch in the region without coming across traces of their existence.