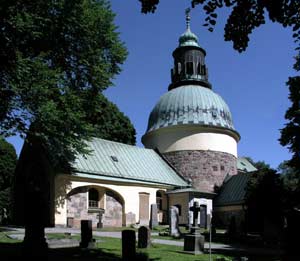 Solna Municipality (Solna kommun) (Swedish: Solna Stad) is a suburban municipality in Stockholm County, central Sweden, located north of Stockholm's city centre. It is a part of Metropolitan Stockholm and is totally within Stockholm urban area. 0% of the area is considered rural, which is unususal for Swedish municipalities, which normally are of mixed rural/urban character. Solna is the third smallest municipality in Sweden in terms of area.

Solna borders with Stockholm to the south, southeast and northwest; with Sundbyberg in the west; Sollentuna to the north; and finally Danderyd to the northeast.

Solna is divided into 8 traditional parts with no administrative functions: Bergshamra, Haga, Hagalund, Huvudsta, Järva, Råsunda, Skytteholm and Ulriksdal. The largest districts are Råsunda, Hagalund and Huvudsta, with the Solna Centrum in between them.

Solna is served by the Stockholm public transport system with buses, Metro and the commuter trains run by SL. It was served by trams until 1959, and new routes are planned.

With few exceptions, Solna's built-up areas have a suburban character, but there are also several large parks and Sweden's national football stadium Råsunda, adjacent to Solna Centrum shopping centre and Metro station.

Solna has a lot of companies and authorities, making it a major place of work in the Stockholm urban area. Among the most important employers are the medical university Karolinska Institutet and the Karolinska University Hospital. The European Centre for Disease Prevention and Control (ECDC) is also located in Solna.

Source:

Solna places

Other areas
Gothenburg
Helsingborg
Malmö
Solna
Stockholm
Uppsala


Solna Stad
There is a Swedish saying 'a beloved child has many names'. Solna is called the city of contrasts, the city of sport and the most business-friendly city in Sweden. The city of contrasts because there is a mixture of old and new, beautiful parks and busy roads. The city of sport because among other things it has the Råsunda Stadium, Sweden's national football stadium. The most business-friendly because the city works actively on being a good location for businesses to set up in. Solna has been designated as Sweden's no. 1 growth municipality for two years in a row.

Solna measures only 22 sq.km. but with its 61,000 inhabitants Solna counts as a medium-sized Swedish city. Solna has Sweden's lowest council tax and good local services.