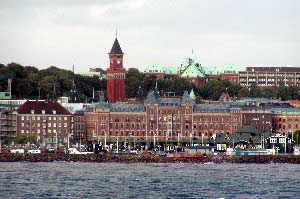 Helsingborg (between 1912 and 1971, the spelling was Hälsingborg) is a city in Skåne County in the southernmost part of Sweden, which has a population of 91,457 (2005). It is the seat of Helsingborg Municipality, which has 124,301 inhabitants (June 2007). Helsingborg is the centre of a region of about 300,000 inhabitants of north-west Skåne. This arguably makes the Helsingborg area the fourth largest metropolitan area in Sweden.

Helsingborg is Sweden's closest point to Denmark, with the Danish city Elsinore (Helsingør) clearly visible on the other side of the strait of Öresund about 4 km to the west.

Historic Helsingborg, with its many old houses, is a scenic coastal city. The buildings are a blend of old-style stone-built churches and a fortress (Kärnan) in the centre, and more modern commercial buildings. The streets vary from wide avenues to small alley-ways.

Helsingborg has an elite football (soccer) team, Helsingborgs IF. Their home stadium is Olympia. Henrik Larsson is the most famous of the club's players.

Helsingborg is a major regional centre of trade, transport and business. In 2001 Campus Helsingborg, a branch of University of Lund, opened in the former Tretorn rubber factory buildings, which had been founded by Henry Dunker. Three ferry companies take people and cargo to and from Denmark around the clock. The route is popular with day-trippers going to Elsinore or Copenhagen, or simply enjoying the views from the ferries. IKEA, the retailer of furniture and home interiors, has its international corporate headquarters in Helsingborg. Nicorette the nicotine chewing gum has a manufacturing plant here. Ramlösa is a mineral water from the southern part of the city.

Source:

Helsingborg places

Other areas
Gothenburg
Helsingborg
Malmö
Solna
Stockholm
Uppsala


Helsingborg City guide
Helsingborg is known as the Pearl of the Øresund. Helsingborg is a great small town with good shopping in the pedestrian streets and a rich cultural life. The exciting new Dunker's Cultural House, has already become a landmark. You'll find some of Scandinavia's best renowned chefs here and wide range of less expensive restaurants and bars. Bordering on the sea, we have a beautiful new residential area by the waterfront, beaches and historical sites. Only minute's away right across the Øresund you can see Denmark, Ellsinore and the Kronborg Palace, Hamlet's "home". Welcome and enjoy!

Helsingborgs Stad
A visit to Helsingborg would not be complete without a trip to Sofiero, particularly in May and June when the rhodendendron is in full bloom. Fredriksdal museums and gardens is one of Sweden´s most famous open-air museums with an outstanding botanical garden. The Kärnan tower, Helsingborgs most famous landmark, has guarded the city for over 600 years. The Dunker Culture center displaying various temporary exhibitions along with objects from the town´s museum collections.