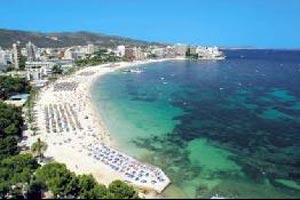 Magaluf on the west side of the Bay of Palma is a clubland/nightlife mecca resort in Majorca, with a real tongue in cheek character. Both Magaluf and Palma Nova evolved out of the post 1960s tourist boom, and today they really are on the list of top youth clubbing holiday nightlife destinations. Both are very good value for money vacation package holiday destinations. Extremely British, with Brit Bars all along the coastline here so yep it's like a home from home with the heat! And there's a real 'tongue in cheek' friendly feel to both Magaluf and Palma Nova, two Majorca resorts which kind of blend into one. There all here, Eastenders Bar, the Prince William Pub and the big clubs like BCM Magaluf. They kind of laugh at themselves these resorts, and they're friendly with it. Many miss the joke, but not the many that return year after year. Let it all hang out! Magaluf and Palma Nova quieten down out of the peak summer season, and make good laid back Majorca holiday destinations in late spring and early autumn! Bonus, is the superb stretch of sandy beaches along this west coast of Palma Bay. Lots of bars, lots of clubs, lots of watersports sitting a-top of a giant bananna and so forth, plus waterparks, go-karting, mini golf, Macdonalds, Burger King, larger and cocktails on tap 24/7. Other water sports in abundance include paracending, doughnuting, Kite Surfing and jet skiing. Sound like your idea of heaven, is for many. Palma Nova and Magaluf are becoming increasingly popular with long-weekenders and stag and hen parties, with only an hours transfer time from the airport, or just 15 minutes by taxi, plus a short flight of just over two hours and lots of cheap deals. Well worth considering as a short break, it makes sense to choose Blackpool in the Sun!
Magaluf places

Other areas
Alcúdia
C'an Pastilla
Cala D´Or
Camp de Mar
El Arenal
Illetas
Magaluf
Palma de Mallorca
Palma Nova
Peguera
Portals Nous
Puerto de Andratx
Puerto Pollensa
Santa Ponsa


Magalluf-PalmaNova.com
Welcome to www.magalluf-palmanova.com, the web site dedicated exclusively to the Mallorcan holiday resorts of Magaluf (also spelt Magalluf) and Palma Nova.

Magaluf and Palma Nova are two bustling resorts offering a wide choice of activities for holidaymakers of all ages ... it isn't just for the young as many people believe. The exception being the Punta Balena which is predominently occupied by youngsters throughout the main Summer months. But the resorts have a lot to offer people of all ages and it is just as much a family resort for most of the year as it is for the partygoers.

The weather is good in Winter and, while many establishment close down, there are still enough open for you to have an enjoyable Winter break. Palma Nova is particularly busy in the Winter months.