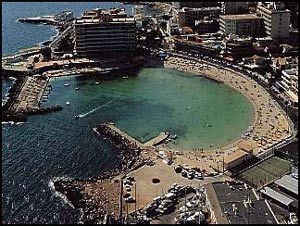 C'an Pastilla, an attractive little Majorca resort is situated down the east side of the Bay of Palma. There's definitely a bit more of a family holiday feel to the East coast of the Bay of Palma, although nightlife, superb sandy beaches, an array of watersports and the biggest Waterpark in Europe also just happen to be on the menu! Bit more popular with the Germans they say (is there an arrangement? West coast British, East Coast German. Dig around and both West and East are a mix really, and you'll not run short of British bars on the East side!) The pace is perhaps a little slower than the West side of the Bay of Palma. A clean and pleasent promenade walkway links C'an Pastilla to S'Arenal, for those leisurely strolls and struttings and a friendly feel with a mix of German and British bars and restaurants running along the promenade make C'an Pastilla the perfect Majorca resort option, and definitely the quickest check-in time to your acommodation from Palma Airport. C'an Pastilla is very close to Palma Airport, so if you like watching planes take off then hey, this is the spot. You get used to it after a while and it's quite entertaining. Out of season, for example early Spring many older Spanish visit these Majorca resorts. C'an Pastilla and S'Arenal, with their less in your face resort approach make perfect bases for both families and older visitors, although they'll be many a pensioner who'll be wanting to whoop it up in Magaluf for sure!
C'an Pastilla places

Other areas
Alcúdia
C'an Pastilla
Cala D´Or
Camp de Mar
El Arenal
Illetas
Magaluf
Palma de Mallorca
Palma Nova
Peguera
Portals Nous
Puerto de Andratx
Puerto Pollensa
Santa Ponsa


C'an Pastilla from Around Mallorca
C'an Pastilla is on the south east coast of Mallorca, very close to Son Sant Juan airport and one of the first "British" resorts in the tourist boom of the '60's. This proximity to the airport can cause some problems with noise although the authorities do attempt to keep this to a minimum.

The beach stretches from C'an Pastilla, through Playa de Palma, all the way to Arenal. The sand slopes gently to the sea and there are various watersports such as water ski-ing and windsurfing available. Pedaloes , parasols and sunbeds are available for hire. and outdoor cafes or "Balearios" line the promenade.

There is really only one main street in C'an Pastilla, with hundreds of tiny, narrow back streets running off. There is a picturesque harbour and the marina-Club Marítimo San Antonio de la Playa-is situated at the edge of the bay.

Restaurants and bars abound along the promenade and in the back streets.

1 - Hotel Hotetur Leo - C'an Pastilla

Class :
No of rooms : 285
City : C'an Pastilla
Address : Polacra, S/N
Hotel Leo is situated in Ca´n Pastilla, a popular holiday resort in the heart of Palma Beach. Just 9 km. From the town centre, it is the perfect solution for your holidays. more ...