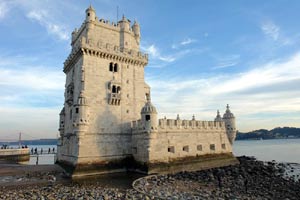 Lisbon or Lisboa is the capital and largest city of Portugal. It is also the seat of the district of Lisbon and capital of the Lisbon region. Its municipality, which matches the city proper excluding the larger continuous conurbation, has a municipal population of 564,477 in 84.8 km², while the Lisbon Metropolitan Area in total has around 2.8 million inhabitants, and 3.34 million people live in the broader agglomeration of Lisbon Metropolitan Region (includes cities ranging from Leiria to Setúbal). Due to its economic output, standard of living, and market size, the Grande Lisboa (Greater Lisbon) subregion is among the major financial and economic centers of the Iberian Peninsula. It is also the political center of the country, as seat of government and residence of the Head of State.

Lisbon was under Roman rule from 205 BC; Julius Caesar made it a municipium called Felicitas Julia. Ruled by a series of Germanic tribes from the 5th century, it was captured by Moors in the 8th century. In 1147, the Crusaders under Afonso Henriques reconquered the city for the Christians and since then it has been a major political, economic and cultural center of Portugal.

Lisbon hosts two agencies of the European Union, namely, the European Monitoring Centre for Drugs and Drug Addiction (EMCDDA) and the European Maritime Safety Agency (EMSA). The Community of Portuguese Language Countries (CPLP), is also headquartered in Lisbon.

Source:


1 - Hotel Aviz - Lisbon

Class :
No of rooms : 70
City : Lisbon
Address : Rua Duque de Palmela, 32
The memory of the Hotel Aviz and its equally acclaimed Restaurant, which has been frequented from 1930's to 1960's by famous personalities such as Maria Callas, Frank Sinatra and Calouste Gulbenkian, more ...

2 - Sheraton Lisboa Hotel & Spa - Lisbon

Class :
No of rooms : 369
City : Lisbon
Address : Rua Latino Coelho, 1 Lisbon, 1069 Portugal
Completely refurbished and redesigned, Sheraton Lisboa Hotel & Spa is one of the most recognised icons in Lisbon. Our great location in one of the city's most prestigious business districts allows more ...

3 - Hotel Príncipe Lisboa - Lisbon

Class :
No of rooms : 70
City : Lisbon
Address : Av. Duque de Ávila Nº 201, 1050 - 082 Lisboa
Renewed in 2004, this is a modern hotel with a dynamic and professional service set in a privileged area of Lisbon's city centre. Situated between Park Edward VII and the Calouste Gulbenkian Found more ...