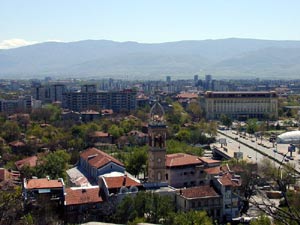 Plovdiv is the second-largest city in Bulgaria after Sofia, with a population of 341,873([1]). It is the administrative centre of Plovdiv Province in southern Bulgaria, as well as the largest and most important city of the historical region of Upper (or Northern) Thrace, famous for its ancient and diverse culture and millennial history.

Plovdiv is located on the banks of the Maritsa river in the central part of Upper Thrace. The surrounding countryside is sparsely populated and bare, yet the city itself is particularly striking, since it, like Rome, is nestled in between seven hills. Tourists, however, are likely to count only six of those, as one of hills was virtually destroyed at the beginning of the 1900s, and there is only a small outcrop of rock left to show where it once stood.

Source:

Plovdiv places

Other areas
Arbanasi
Balchik
Bansko
Burgas
Golden Sands
Nesebar
Plovdiv
Sofia
Sozopol
Sunny Beach
Varna
Veliko Tarnovo


Plovdiv.org
The Home Page of Plovdiv, the second largest Bulgarian city. Contains a virtual photo tour of Plovdiv, including many pictures related to the history, sights of interest, culture, and celebrities of Plovdiv. Maintains a list of people from Plovdiv.

Plovdiv guide
A travel guide to Plovdiv. Plovdiv is the second largest city in Bulgaria, situated on the Maritsa River. Its unique location on these ancient crossroads has stimulated strong cultural and political influences from East and West civilizations, and yet maintained its unique cultural identity. Being older than most of the oldest towns like Rome, Athens, Carthage or Constantinople, an almost contemporary of Troy, Plovdiv is a town built upon layers of towns and a culture developed upon layers of cultures.