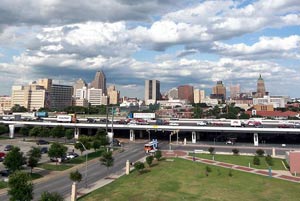 San Antonio is the second most populous city in Texas and is the seventh most populous city in the United States. As of the 2006 U.S. Census estimate, the city had a population just under 1.3 million. As of 2006, the eight-county metropolitan area has a population of just under 2 million and is the 30th-largest metropolitan area in the USA. San Antonio, which is the county seat of Bexar County, covers over 400 square miles (1,000 km²) on the northern edge of the South Texas region of the State, and the southern edge of the Central Texas region. It has influences of both the American South and Southwest.

San Antonio was named for the Portuguese Saint Anthony of Padua, whose feast day it was (June 13) when a Spanish expedition stopped in the area in 1691. The city has a strong military presence—it is home to Fort Sam Houston, Lackland Air Force Base, Randolph Air Force Base, and Brooks City-Base, with Camp Bullis and Camp Stanley right outside the city. San Antonio is home to the South Texas Medical Center, the largest and only medical research and care provider in the South Texas region.

Famous for its River Walk, the Alamo, Tejano culture, and being home to SeaWorld and Six Flags Fiesta Texas theme parks, the city is visited by 20 million tourists per year, many of them attracted by San Antonio's reputation as an excellent shopping destination. San Antonio is also home to the first museum of modern art in Texas—the Marion Koogler McNay Art Museum, as well as one of the most successful National Basketball Association teams in league history, the San Antonio Spurs.

Source:

San Antonio places

Other areas
Dallas
Houston
San Antonio


San Antonio city guide
With a population of over one million and second only to Houston as Texas's most populated city, San Antonio, Texas is big in every way. With varied historical, cultural and downright fun attractions, San Antonio sees well over 20 million visitors to the city every year. From its friendly residents, Texas home-style cooking and renowned Mexican fare to exciting nightlife, it's no wonder that so many people call San Antonio home and so many more travel to Texas to visit this timeless city on the river. Find information on San Antonio hotels, attractions, restaurants & more. Great rates on Riverwalk, Alamo & Downtown hotels, nightclubs, real estate, events, music, business, culture & much more.

San Antonio CVB
San Antonio captures the spirit of Texas. Now the eighth largest city in the United States, the city has retained its sense of history and tradition, while carefully blending in cosmopolitan progress. Complete San Antonio, Texas travel guide. Find details on events, attractions, dining, shopping, vacation packages, accommodations and more compliments of the San Antonio Convention & Visitors Bureau.