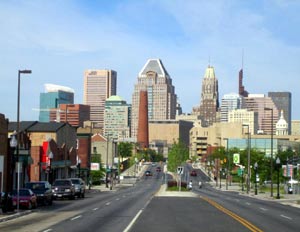 Baltimore is an independent city located in the state of Maryland in the United States of America. As of 2006, the population of Baltimore City was 631,366. The city is a major U.S. seaport, situated closer to major Midwestern markets than any other major seaport on the East Coast. Once an industrial town with an economic base in manufacturing, Baltimore's economy has now shifted primarily to a service sector-oriented, with its largest employer no longer Bethlehem Steel but The Johns Hopkins University and The Johns Hopkins Hospital.

The Baltimore Metropolitan Area, which includes the city's surrounding suburbs, has approximately 2.6 million residents. Baltimore is also part of the Baltimore-Washington Metropolitan Area (CMSA) of approximately 8.1 million residents. Baltimore is the largest city in Maryland, and its metropolitan area is the 19th largest in the country.

The city is named after the founding proprietor of the Maryland Colony, Lord Baltimore in the Irish House of Lords. Baltimore himself took his title from a place named Baltimore in Ireland, which is the English transliteration of the Irish language Baile an Tí Mhoir, or "Home of The Big House". It is not clear whether this Baltimore was the town of Baltimore in County Cork, or a place in the county of Longford which was called Baltimore at the time.

Baltimore became the second leading port of entry for immigrants to the United States during the 1800s.

Because there is also a Baltimore County surrounding (but not including) the city, it is sometimes referred to as Baltimore City when a clear distinction is desired.

Source:

Baltimore places

Other areas
Baltimore


Baltimore.org
Welcome to Baltimore.org where you will find information on the best that Baltimore has to offer. With something around every corner to either see or do, Baltimore is certainly an exciting place to visit. While here you may want to explore a few of our famous Baltimore Museums such as the Baltimore Aquarium, the Maryland Science Center, The National Great Blacks In Wax Museum, or The Reginald F. Lewis Museum of Maryland African American History. Baltimore also has a very rich, cultural history and by touring a historic site like Fort McHenry - home of the National Anthem - you will gain a new perspective of Baltimore. Celebrate black history by picking up a copy of our African American Heritage and Attractions Guide and we'll introduce you to places that you may not have heard of and others that you've wanted to see.

Baltimore.com
Baltimore, Maryland is among the more enjoyable stops on the east coast, and its closely knit neighborhoods and historic quarters provide an engaging backdrop to many diverse attractions, especially those along its celebrated waterfront , like the Inner Harbor's National Aquarium and the Pier 6 Concert Pavilion and Power Plant entertainment complex. The city also boasts top-rated museums , like the Walters Art Museum and the child-oriented, interactive Port Discovery, which cover everything from fine arts through black history to urban archeology. That Baltimore has been home to such diverse figures as writers Edgar Allan Poe and Anne Tyler and civil rights activists Frederick Douglass and Thurgood Marshall goes some way towards explaining its sometimes bizarrely varied character.