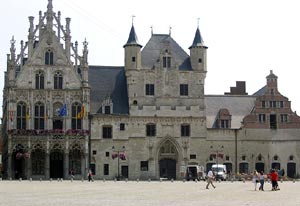 Mechelen is a Dutch-speaking city and municipality in the province of Antwerp, Flanders, Belgium. The municipality comprises the city of Mechelen proper, some quarters at its outskirts, the hamlets of Nekkerspoel (adjacent) and Battel (a few kilometers away), as well as the villages of Walem, Heffen, Leest, Hombeek, and Muizen. The Dijle flows through the city, hence the term 'Dijlestad' (Dijle City).

Mechelen lies on the major urban & industrial axis Brussels-Antwerp, about 25 km from each city. Besides at Mechelen's southern industrial and northern office estates, many inhabitants find employment at offices in or industry near the capital, or at industrial plants near Antwerp's seaport.

Source:

Mechelen places

Other areas
Antwerp
Bruges
Brussels
Diegem
Ghent
Leuven
Liège
Mechelen
Mons
Ostend
Ypres


In & Uit Mechelen
Welcome to Mechelen, a city that was once the capital of the Burgundian Netherlands (present-day Belgium and Holland). Mechelen has one of the highest concentrations of monuments North of the Alps, and is unique in Flanders in being listed not once but four times on the UNESCO list of World Cultural Heritage sites. Travel guide to Mechelen city with sections like accommodation, sights of interest, special packages, guided tours, touristic routes, leisure time, events, zoos, parks, leisure centres, shopping, food & drink and more.