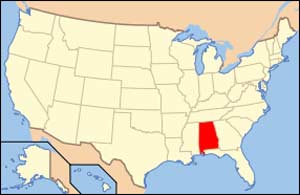 The State of Alabama is located in the southern region of the United States of America. It is bordered by Tennessee to the north, Georgia to the east, Florida and the Gulf of Mexico to the south, and Mississippi to the west. Alabama ranks 30th in total land area and ranks second in the size of its inland waterways. The state ranks 23rd in population with almost 4.6 million residents in 2006.

From the American Civil War until World War II, Alabama, like many Southern states, suffered economic hardship. In the years following the war, Alabama experienced significant recovery as the economy of the state transitioned from agriculture to diversified interests in heavy manufacturing, mineral extraction, education, and high technology. Today, the state is heavily invested in the aerospace, education, health care, banking, and various heavy industries including automobile manufacturing, mineral extraction, steel production and fabrication.

Alabama is officially nicknamed the Yellowhammer state, which is also the name of the state bird. Alabama is also known as the "Heart of Dixie." The capital of Alabama is Montgomery, and the largest city is Birmingham (in Jefferson County).

Source:

Alabama places

Other areas
Alabama
Alaska
Arizona
California
Florida
Georgia
Hawaii
Illinois
Louisiana
Maryland
Massachusetts
Nevada
New York state
North Carolina
Rocky Mountains
Tennessee
Texas
Washington, D.C.


Tour Alabama
Official site of the Alabama Department of Tourism and Travel. Find general travel information such as maps and vacation guides as well as detailed information on accommodations, attractions and activities to help in your travel planning to and through Alabama.

Pleasure Island Condos
Imagine an Orange Beach or Gulf Shores condo, a sugar-white sandy beach with a golden sunset. The warm water and sea air will refresh your spirit, and a swim with a dolphin, a game of tennis, or a round on a championship golf course relaxes the mind. There is a lot to do at Pleasure Island Condominiums. Rent a space and enjoy golfing, deep sea fishing, water skiing, parasailing and boating in Orange Beach and Gulf Shores, Alabama.