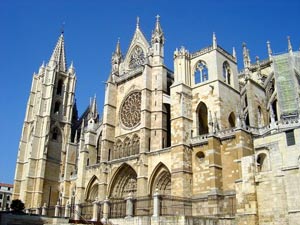 The city of León (Llión, in Leonese Language), located at 42.59°N latitude, 5.57°W longitude, is the capital of León province in the autonomous community of Castile and León, in northwest Spain. Its population of 136,985 (2006) makes it the largest municipality in the province, accounting for over one quarter, of the province's population. Its urban area population is calculated at 204,212 (2006).

León is famous for its Gothic León Cathedral and many other monumental buildings, such as the Real Colegiata de San Isidoro (which holds the Royal Pantheon, a mausoleum in which medieval Kingdom of León's royal family were buried, and also has one of the world's best collections of Romanesque paintings); Casa de Botines (an early work of Spanish architect Antoni Gaudí, nowadays occupied by a bank); San Marcos (originally the Military Order of Santiago's home, built in the 16th century); or the new MUSAC, the Castile and León Museum of Contemporary Art. León is also known for its "fiestas", like Easter. Leonese processions are declared to be of International Interest and, on those days, many people from all over the world visit León to see and participate in its traditions.

Source:

León places

Other areas
Ávila
Burgos
León
Palencia
Salamanca
Segovia
Soria
Valladolid
Zamora


Guide to Leon
Leon is one of the most historic regions of Old Castile. It is a fairly large province, bordered by Galicia and Asturias, as well as by Palencia and Zamora. Very few Celtic remains have been found here but ther is evidence of Roman occupation. Other peoples have settled here including the Moors but it was the Knights Templar who built castles and fortifications here in the Middle Ages. Much of the region has escaped the tourist boom and remains wooded or mountainous, making it an ideal location for the trout fishing that attracts so many people each year.