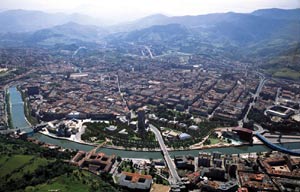 Bilbao, (Bilbo or Bilbao in Basque), in the North of Spain, is the largest city in the Basque Country and the capital of the province of Biscay (Basque: Bizkaia). The city has over 354,000 inhabitants (2006) and is the most economically and industrially active part of Greater Bilbao, the zone in which almost half of the Basque Country's population lives. Greater Bilbao's 946,829 inhabitants are spread along the length of the Nervion River, whose banks are home also to numerous business and factories, which during the industrial revolution brought heightened prosperity to the region.

Source:

Bilbao places

Other areas
Bilbao
San Sebastián
Vitoria-Gasteiz


Guggenheim Museum Bilbao
The Guggenheim Museum Bilbao, designed by North American architect Frank O. Gehry, is a magnificent example of the most groundbreaking architecture to have come out of the 20th century. The building itself is an innovatively designed architectural landmark that creates a seductive backdrop for the exhibition of contemporary art.