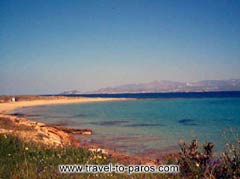 Nea Chryssi Akti (new golden beach) in Greek is a beach known to windsurfers globaly, as it offers great wind most of the year.
Nea Chryssi Akti places

Other areas
Naoussa
Nea Chryssi Akti
Parasporos
Parikia


New Golden Beach
New Golden Beach (or Tserdakia) is a large sandy beach which is known to the world as one of the most ideal beaches of the Mediterranean for wind surfing. This is the reason that, the World Championship of Windsurfing was carried out in the beginning of August in New Golden Beach, over the last 7 years until recently.