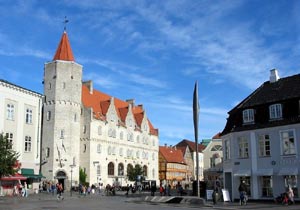 Aalborg or Ålborg is the fourth-largest city in Denmark - after Copenhagen, Aarhus and Odense - with an urban population of 121,540 (2006). The earliest settlements date back to around 700 AD. Its location by the Limfjord made it an important harbour during the Middle Ages and an industrial centre later. Today the city is in a transition from a working-class, industrial city to a knowledge-based one. One of the driving forces in the transition is the University of Aalborg, founded in 1974.

It is the location of Aalborg Air Base, an important base of the Danish air force, and is the seat of a bishop within the Danish National Church.

Source:

Aalborg places

Other areas
Aalborg
Copenhagen
Frederiksberg
Kastrup
Odense


Visit Aalborg
Aalborg is a multi-faceted city - full of contrasts. A city with a lust for life and all of its pleasures. It's also grand on a manageable scale. All the major city attractions are concentrated within easy distance. From fast-paced fun to peaceful oases. From a foaming draft beer to sublime gastronomy. From the Viking era to the Middle Ages, to modern art. As an added attraction, the countryside around Aalborg is inviting and beautiful.